Huntsville's top stamped concrete contractors
Stamped concrete is fast becoming a go-to option for modern homeowners due to its durability, affordability, and the stylish outlook it adds to the home. It is customizable, versatile, and can be poured, textured, and colored to suit your preference. Commercial property owners are not left behind in the hunt for a beautiful space too!
Are you out searching for the best concrete stamping services around? You have come to the right place!
We are Huntsville's first choice for all kinds of cement projects, including stamping, custom staining, crack repair, retaining wall, polishing, fresh installations, and stamped concrete resurfacing for exterior and interior flooring of both commercial property and residential areas. With thousands of decorative concrete installations completed over the years, our experience in the business is unrivaled. 
Flexible appointments and Free Estimate.
Believe us when we say that we have done and seen it all. We really have… 
We employ best-in-class technology and the latest innovations that guarantee first-class textured concrete flooring for your driveway, sidewalk, patio, pool deck or other backyard spaces. Our modern techniques, transparency, and cost-effective approach to achieving the design needs of our clients' projects put us miles apart from other concrete stamping contractors. 
There are no corners cut, no fish stories, just quality, speed, and efficiency.
We also offer a variety of artistic concrete patterns, colors, and custom-made outdoor designs that can imitate genuine flagstone, slates, brick, cobblestone, tiles, or wood. Regardless of your flooring needs for your home or office space, we can assure you of high-quality service delivery and the most affordable quote you will find out there. 
Ready to remodel your home or office? Trust us to revitalize your space to suit your style. 
Get a Quote For Your Project
Residential & Commercial Stamped Concrete Contractors You Can Rely On
As a client-oriented company, we are dedicated to serving businesses and local homeowners in the community. We are a network of professionals comprising the best stamped concrete sealers, installers, and maintenance personnel. Unlike other companies, we are reliable, distinct, trustworthy, and competent.
Our crew members are well-trained and furnished with the latest equipment and techniques on how to do stamped concrete overlay that looks beautiful and lasts a lifetime. Our capabilities extend across residential, commercial, and industrial properties in the city and its neighborhoods.
We take pride in our outstanding reputation and exceptional work ethic. When you hire us to work on your project, you are assured of a friendly, superlative, swift, and professional service.
Small or big jobs! Our cement pouring experts can handle it all. 
We understand that first impressions matter and are keen on providing our customers with stylishly imprinted outdoor surfaces that capture the attention of visitors at first sight. With us, your satisfaction is guaranteed!
Want excellent results for your concrete projects? Then reach out to us today! 
Cost, Colors, Designs, Patterns! We Got Ya!
Despite the versatility of concrete, and its implementation in a broad range of flooring projects, choosing the design, pattern, or best colors for stamped concrete can be a little bit difficult, especially if you have no idea what to do. That is why we are right here to help. We will guide you through the process of choosing a unique design, pattern, and specific color that suits your desires before pouring the cement. 
Whether you want an ashlar slate pattern, polished concrete, brick textured design, stamped, or maroon colored flooring, we have got you covered. Perhaps, you need stamped concrete for front porch or a textured surface that includes certain elements; we will go the extra mile to incorporate the elements into your finished concrete design.
Leave us to do the work while you sit back, downing your Popeyes and scooping your ice cream.
Have you got questions about cost, design, colors, or stamped concrete patterns? Or do you need space looking all nice and good with patio ideas inspired by us?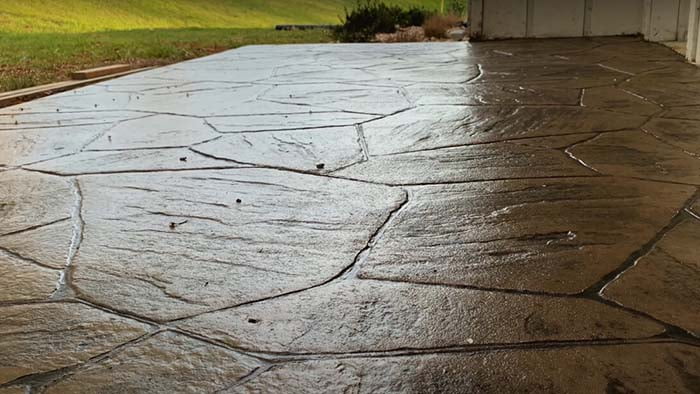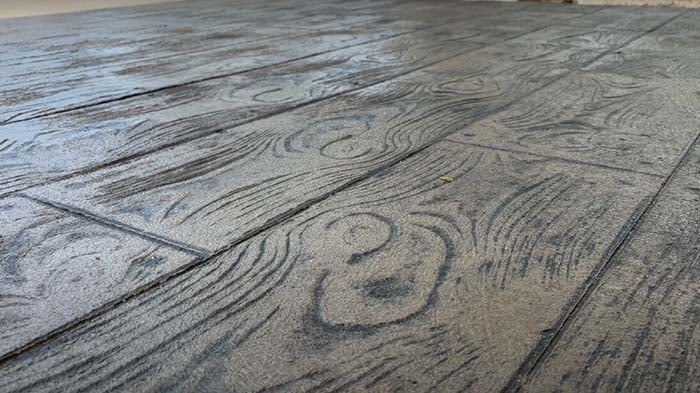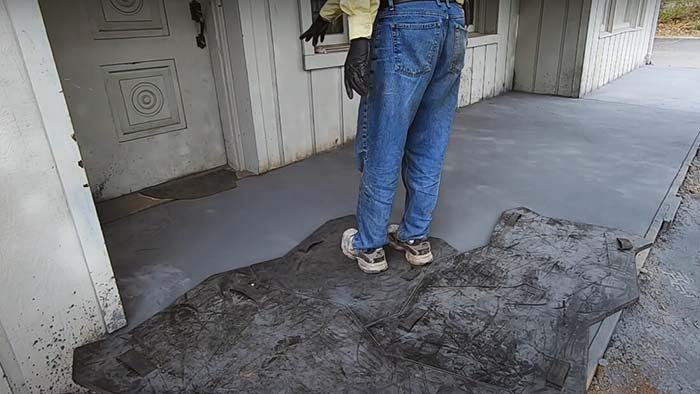 Transparent and Affordable Stamped Concrete Estimate
Before mobilizing our installation crew to your residential or commercial space, we will have our experts over to inspect your environment and then provide you with a detailed quote at no charge to you. 
During the inspection, you can notify our team of your preferences for your stamped driveway, outdoor kitchen or other surfaces. We can do a lot of different looks. Perhaps, you are worried about scheduling that works for you? Let us know, we always find solutions. Reach out to us today for a free estimate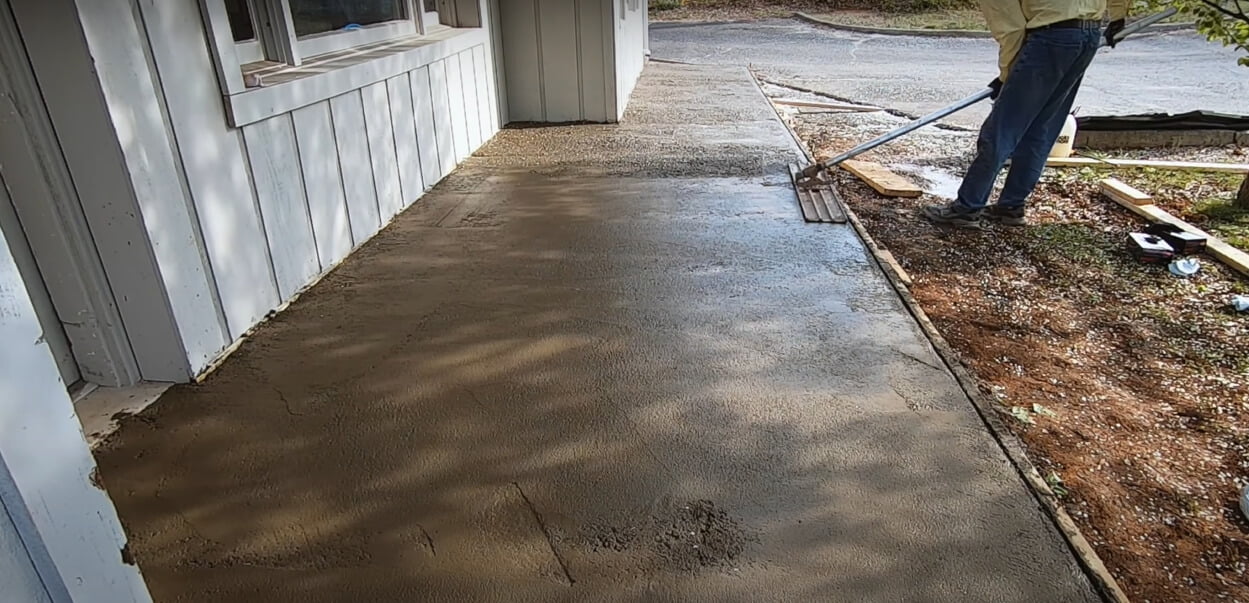 Call For a Quote:
(938) 222-0950
Why Hire the Best Concrete Contractors in Huntsville AL?
We are a reputable group of contractors with several years of industry-relevant experience. Nothing gets past us. Name it, and we have done it before – that is why we are regarded as the best stamped concrete company in town. 
Still chewing over hiring us! Here is why you should bring us in on your next project:
#1 Quality Is Key for Us
At Huntsville Stamped Concrete Co., we think long-term for every project we work on. Whether it is an imprinted surface removal, restoration, or installation, we prioritize quality all time. Unlike low-end contractors who use inferior materials and end up wasting your money, we would instead do it right the first time with top-quality, long-lasting, and highly durable materials.
We love quality; we know you do too. Call us, and let us schedule an inspection.
#2 We Are Experts in Our Field
We have honed our craft over the years and have built all-around competence to enable us efficiently manage any kind of cement project. Safety is also a key component of our work; injury rates are very minimal, which means downtimes rarely occur when our crew is out there working in your home or office.
No one does it better than we do.
#3 We Are Certified, Insured, and Licensed
When hiring contractors for your home improvement job, you sure will not bring in that rickety guy down the road to perform the duty of professionals. Obviously, he is not certified or licensed to get the job done safely. We have all the licenses and approvals to execute your tasks safely, so you have nothing to worry about.
#4 Efficient and quick
We have got the experience and have learned to combine it with pace so that we can finish your project at the earliest possible time. On top of our efficiency, you are guaranteed to get the high standard outcomes you desire. 
Why not let our top concrete contractors handle your project!
#5 We Are a Cost-Effective Option
As best as we can, we offer our clients the most competitive prices there are in Alabama's Rocket City. You do not have to go bankrupt because you are trying to beautify your space. Reach out to us over the phone, tell us your preferences and budget, and we will provide you with a free quote detailing the cost of stamped concrete. Of course, our cost estimates will be based on prior inspection of your property, not just random numbers 
Trust us always to find something for everyone.
#6 We Will Tell It to You Straight
Another reason you should hire us is because of our openness and trustworthiness. We say it as it is- no funny business. With us, you only pay for what you need, nothing more. We do not inflate estimates. If a change order arises during the installation of your textured concrete, we will first seek your approval before amending the project plans to suit the current circumstances.
Contact us for a free estimate today!
What makes us the best?
Y'all have come this far! Want to hire us already, right?
You've got an upcoming project and are unsure how to handle it? Is this one of the services we offer? If yes, get in touch with us at Huntsville Stamped Concrete Co. today so that we can help you get through the entire process without breaking a sweat. We will painstakingly inspect the project site and provide you with professional opinions on costing and material choices to help you achieve your goal. 
Want that backyard to look beautiful! We've got a lot of backyard stamped concrete ideas for you to choose from. Just think about it; our experts will make it happen.
Call Huntsville Stamped Concrete Co. now, and we can get to your home for inspection and offer you a free quote.
Where Do You Serve Apart from Huntsville, AL?
We are a local concrete stamping company in Huntsville, Alabama, with comprehensive service coverage in and around the US Rocket City. Our professionals have completed projects in Aston Springs, Brandontown, Mountain Brook, Twickenham Square, Ben Grove Manor, Willowbrook Estates, and Meridian, to mention a few. 
The city is home to the NASA Marshall Space Flight Centre, Monte Sano State Park, US Veterans Memorial Museum, the federally-licensed Harmony Park Safari, Big Spring Park, Bridge Street Town Centre, Museum of Art, and Hays Nature Preserve. The city also hosts Alabama A&M University, Oakwood University, Huntsville Bible College, and several other prestigious institutions. 
We can also work in Greenhill, Walton Mountain, Quigley, Hawks Ridge, Ashtynn Manor, Williams Pointe, Eastern Shore, Oak Bluff, Chaney Place Condos, Westbury, Twelve Stones, and many more.
Want to reach out to us from any of these neighborhoods? Just search for "stamped concrete installers near me," and you will find us.
Call us over the phone, so we can discuss your upcoming project and arrange an appointment with you.